The 3/50 Project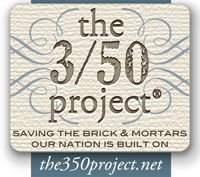 I stumbled upon the 3/50 project a few weeks ago, LOVE the concept and figured it would be good blog fodder each month. Click on the link for more specifics, but basically 3/50 stands for spending $50.00 a month total between 3 different local independently-owned businesses.
Here are my 3 for this month:
1. Rowan Colourscape Chunky from
Yarnivore
, a LYS.
2. Breakfast from
Il Sogno
while checking out
San Antonio's newest Farmers Market
. I enjoyed a panini sandwich along with some fresh squeezed juice from this restaurant that has only been opened 1 week.
3. Goodies from the Farmers Market (bread, jams, veggies, and some local grass-fed beef).
I obviously spent more than $50.00 but its just the idea to go out of my way to support local businesses when I can. As for the new
Farmers Market
, it's really nice and hip, but I think there's a certain charm to buying your fruits and veggies from the overall wearin', beat-up truck drivin' farmer I see at my usual Farmers Market but will definitely visit the brewery every once in awhile too.